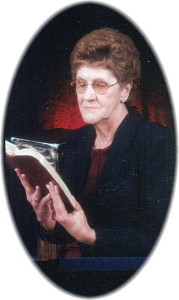 Veva Pack, 80, of Inez, KY passed away Sat., Oct 5, 2013 at her home.
She was born June 2, 1933 in Inez, KY, to the late Martha [Mills] James.
She was a homemaker and a member of New Friendship Church.
In addition to her mother, she is also preceded in death by her husband, Lloyd Pack.
She is survived by: her sons, Phil [Brenda] Pack of Paintsville, KY and Richard Pack of Inez, KY; grandchildren, Emily, Matthew, and Zachary; sisters, Loretha Muncy of Inez, KY, Janet [Charles Gant of Missouri, and Emma [Howard Endicott of Marion, Ohio; Brothers, Larry James of Inez, KY, Don [Wanda] Bowen of Louisa, KY, and Bonnell [Ellen] Bowen of Kenova, WV; as well as several nieces and nephews.
Funeral services will be held 1:00 PM, Tuesday, Oct. 8, 2013 at New Friendship Church with John Goble officiating. Burial will follow in the Bowen Cemetery
Visitation will beat 6:00 PM Sunday, Oct. 6, and Monday, Oct. 7, 2013 at Richmond-Callaham Funeral Home, Inez.