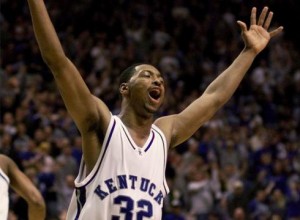 Desmond Allison,31, a former University of Kentucky basketball player was shot and killed in Columbus, Ohio, on Monday.
Allison excelled in multiple high school sports. He was recruited to play basketball by Indiana, Texas and Ohio State but upon graduation signed to play basketball for the Kentucky Wildcats under Coach Tubby Smith. While attending Kentucky, Allison was arrested for drunk driving and marijuana possession and also suspended for violating the team's alcohol policy. After two troubled seasons at Kentucky Allison transferred to Martin Methodist College.
After college, Allison's troubles continued with numerous drug-related arrests.
According to the Herald-Leader, Vaughn Volpi, the assistant football coach from his high school days, said the funeral of a former high school teammate, Vanderbilt running back Kwane Doster, who was killed in a drive-by shooting in Tampa, had helped to turn Allison around.
"I pulled him aside," Volpi told the Herald-Leader at the time. "I told him, 'Desmond, I don't want to be at your funeral next.'"
At the time, Allison was relishing the fresh start.
"I feel very blessed to get another opportunity," he said, "because not a lot of people will give you a second chance."
UK Coach John Calipari posted the following statement on Twitter Monday night: "Big Blue Nation, please join me and pray for the family of former Kentucky Wildcat Desmond Allison as they grieve his passing."
Read more: http://www.kentucky.com/2011/07/26/1824147/former-uk-player-desmond-allison.html#ixzz1TKOtlXZL
Read more: http://aol.sportingnews.com/ncaa-basketball/story/2011-07-26/former-uk-basketball-player-desmond-allison-shot-killed