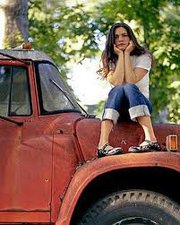 Local music star Angaleena Presley was recently featured on CMT and VH1 with Kid Rock.
Biography from Music City Roots
Born and raised in Beauty, Kentucky, I'm a true product of Appalachia. I love biscuits, gravy, dirt bikes, overalls, bluegrass, bonfires, burnt rubber, quilts, afghans, mason jars, moonshine, mud, and family. My uncle Bobby was an outlaw musician with an amazing voice and style all his own. I remember sitting on Mamaw's front porch soaking up his versions of songs like "Blue Eyes Crying in the Rain", "Sixteenth Avenue", "Almost Persuaded", and "Sugar Mountain". My Daddy, who was a coal miner for thirty years, showed me how to play "Mamma Tried" when I was sixteen. I've been plucking away and writing songs ever since. My mom took Willie and Waylon's advice. Determined not to let her baby grow up to be a cowboy, she sent me to a community college right out of high school. Despite her efforts, I was drawn to music and knew in my heart that it was my destiny. I used to skip class and take my guitar up to Butcher Holler. I'd sit there at Loretta's home place and write songs, dream, and will myself to Nashville, TN. Mom eventually got her way and I wound up graduating from Eastern Kentucky University with a degree in Psychology. However, one year out of school, I packed up everything I owned and moved to Music City, U.S.A. I began playing writers nights, and to my sweet surprise, I signed a publishing deal nine months after I moved to town. I'm still a staff writer with the company that gave me my first deal.
Ten Ten Music has become my home away from home. Mountain girls believe in loyalty and I'm blessed to work with some genuine folks who share that belief. My writer credits include a song on Heidi Newfeld's (formerly of Trick Pony) first solo project. It's called "Knocked Up" and I hear that her Grandma was not thrilled about the idea. Thanks for your bravery Heidi. My mamaw sleeps with a pistol under her pillow so I know all about not wanting to step on Granny's toes. I have also had overwhelming success in Australia. I've had ten major cuts, five top ten singles, and one song, "Look it Up" entered the charts at number one and stayed there for seven weeks. Two artists who had two or more of my songs on their albums, Kirstie Lee Akers and Talia Wittman, each won the ACMA New Talent award. Not bad for a little girl from Beauty, Kentucky. Currently, I'm honing my skills as an artist and gearing up to promote my first project. Award winning producer (and genius extraordinaire, if I do say so myself) Mike Wrucke signed on to take some of my hillbilly home recordings and turn them into amazing, eclectic blends of country, bluegrass, and rock-and-roll. Call it alt-country on moonshine. Mike, who also produces Miranda Lambert's albums, has created an environment where I can tell my stories, sing my songs, and rock you into an oblivion all at the same time. There are front porch moments and head banging moments. I'm excited to come to a town near you with my album in tow. I look forward to meeting you, shaking your hands, kissing your babies, flirting with your husbands and boyfriends (kidding girls), and getting to know each and every person who still has an affinity for good music. See you soon.
Songwriter Mark D. Sanders who's credits include, "I Hope you Dance", "Heads Carolina, Tails California", "Bobby Ann Mason", and "Money in the Bank" said this about me…. "If Loretta Lynn and John Prine had a baby, it would be Angaleena Presley." You pretty much hit the nail on the head, Mark.