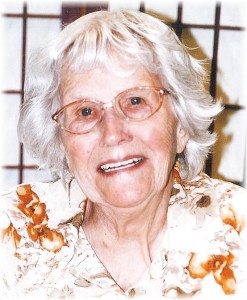 Aileen Spaulding Goble, 94 of Inez, Kentucky passed away on Saturday, August 17th, 2013 at the Martin County Healthcare Facility in Inez, Kentucky. She was born in Martin County on April 15th, 1919 to the late Aaron Spaulding and Margret Spaulding. In addition to her parents she is preceded in death by her husband, Thornton Goble, four children, Walter Gary Goble, Joyce Jean Howard, Linda Faye and Jewel Salyer, one grandson, Micheal Brown, two brothers, Bill and John Spaulding and two sisters, Jessie Bowen and Easter Horn.
Aileen is survived by her children, Willie (Lilly) Goble, Virgil Goble and Ella Mae (Phil) Dalton all of Inez, Kentucky, Nancy (Sam) Greer and Maggie (Jim) Flock both of Columbus, Ohio, 11grandchildren, numerous great-grandchildren and great-great grandchildren and one sister, Lula Binion of Inez, Kentucky. She is also survived by numerous nieces and nephews and close friends and neighbors.
Visitation will be held at the Richmond-Callaham Funeral Home in Inez on Monday, August 19th starting at 6:00pm. Funeral services will be held at the Inez Freewill Baptist Church on Tuesday, August 20th at 1:00pm with Richard Davis officiating. Burial will follow at the Fletcher Cemetery on Calf Creek. Arrangements are under the direction of the Richmond-Callaham Funeral Home in Inez, Kentucky.