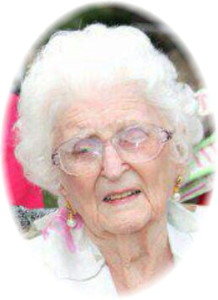 On Thursday, August 15th, 2013, at 6:25pm, with a peaceful sigh, Mary Kirk, our dear precious mother, surrounded by family and friends, was carried home by angels, to with the Lord for her eternal rest.
Mary Kirk, 97 of Lovely, Kentucky went to be with the Lord, at the home of her daughter and loving caregivers of 20 years, Nancy and Noah Dillon. Born November 18th, 1915 to the late Jim and Nancy Newsome Maynard on Pigeon Roost, in Martin County, Kentucky. Mary meet and married Everett Kirk, September 3rd, 1933 and after 59 years of marriage, Everett, preceded Mary in death, as well as two beloved sons, Harlan Ray and Arthur Kirk, and two granddaughter, Mary Elizabeth Kolb and Shenna Lynn Marcum. Also, preceding her in death were sisters, Ollie Maynard, Ola Snodgrass, Patty Maynard and Mida Parsley.
Survived by children, Juanita (Criket) Muncy of Heidrick, Kentucky, Wilburn (Darla) Kirk, Nancy (Noah) Dillon of Lovely, Kentucky, Lois June Mills of Myrtle Beach, SC, Everett Lynn (Brookie) Kirk of Riverton, FL, Michael (Sharon) Kirk, Pat (Harlan) Marcum and Tonetta (Bobby) Nichols all of Inez, Kentucky. One brother, James (Bo) Maynard of Inez, Kentucky. Mary and Everett were blessed with 10 children, 30 grandchildren, 64 great-grandchildren and 54 great great-grandchildren who lobed them and are thankful to have had such loving parents and grandparents.
Our appreciation and a special thank you to Connie Davis, Freeda Chafins, Judy Preece, Beth Hitchens, Helen Duncan and Melinda Bowen as well as Martin County Heath Care who took such great care of mom during her time of illness and home confinement. Also, we especially thank Kevin Gauze, who came whenever mom needed him to confirm that she was doing just fine.
Mom was a christian for 66 years and one of the oldest membertsof Old Union United Baptist Church of Emily, which she loved to go when she was able to attend church.
The body of Mary Kirk will lie in state for viewing, at Lovely Freewill Baptist Church on Saturday, August 17th, 2013 from 6-11pm. Funeral will be at the church on Sunday, August 18th at 1:00pm with Lonnie Smith, Terry Harmon and others officiating.