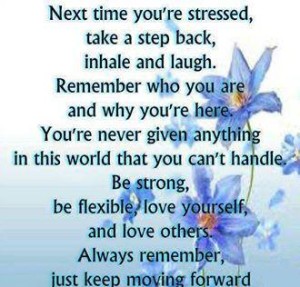 Local Martin County resident inspires organization which aims to help grandparents raising their grandchildren.
 I was raised by my grandparents and know how difficult it is for them to raise a second family. I also understand how the grandchildren feel.
On June 24th, 2013 I headed out on a nine day mission trip to Inez, Kentucky with 16 other people. We had a lot of work to do and a short amount of time to get finished.
On Sunday the 30th we were scheduled to complete two projects. On our way to the first I overheard the people riding with me talking about all the work we had to do and such a little amount of time to complete them. All at once in a firm, loud voice I said, "We are going to the laundry mat today on our way back."
I spoke to the people in charge of the mission trip about how burdened I felt to stop by the laundry mat. After a brief conversation the person in charge of the money handed me the bag of money we had collected at our Sunday school and gave us permission to stop on our way back.
When we arrived there was only one lady in the laundry mat. However, it didn't take long to realize that she was what the stop there was all about. God had placed her there at exactly the right time. We were such a blessing to her and her story touched me like nothing else in my life.
We handed her a roll of quarters to help with her laundry and a card explaining who we were and how we were helping Inez and surrounding areas.
She explained she was a Christian and came here to do her laundry after church while it wasn't so crowded. Her washing machine had broken and she couldn't afford to have it fixed.
We offered to pray with her about anything that was on her mind. She explained that her daughter was just arrested for drug charges and was going to prison. She was 61 years old and now going to be raising her 9 year old granddaughter. She just didn't know how she was going to be able to do this.
I explained to her that grandmothers were very special ladies, I knew because my grandmother had raised me. I am who I am today because of my grandmother. God would also be there to help her through this.
One of the ladies with me had several years' experience with prison ministry and I have experience as a correctional officer. We comforted the grandmother by explaining that her daughter could be saved while in prison.
We prayed for the grandmother, her daughter and granddaughter. We were able to bless her with money to help her with her washing machine.
I went back to the van and shared the story with the others. I explained that I wish I could have helped more, but didn't bring any extra cash with me today. Next thing I knew everyone was handing money to me. We were able to bless her with even more money to help with her situation. I also shared how hard it was to experience "Tough Love" with your children, but I had went through a similar experience with my son, and to this day he tells me it was the best thing I could have done for him. Everything would be okay someday.
One of the ladies had given me a $2 bill which I sat apart from the other money. When I handed it to her I told her that I had collected $2 bills for my grandchildren to give them when they grew up and would like for her to do the same for her granddaughter. She agreed and said she would write down how they had been blessed this day.
This experience humbled me so much I cried my heart out. I could hear my grandmother saying "Good job my child."
When we returned all I could think about was how many grandparents are here raising their grandchildren. I did some inquiring and realized that there are many people in this same situation. I talked to several local agencies; all tell me there is a tremendous need for a support group in this area.
With God's help I had a building donated for us to use for our meetings. I have been blessed with several people and agencies that are willing to help me with my endeavors. However we need more volunteers to make this happen! For more information about how you can help please call Debbie Ward Hostetter at 660-619-8048
VALLEY OF HOPE IS A SUPPORT GROUP FOR GRANDPARENTS RAISING THEIR GRANDCHILDREN
MISSION STATEMENT
WE WANT TO GIVE ENCOURAGEMENT AND HOPE TO BOTH GRANDPARENTS AND GRANDCHILDREN.
MEETING TIMES AND LOCATIONS
FIRST TUESDAY NIGHT 7-8PM
SECOND SATURDAY OF EACH MONTH 10:00-12:00PM
SALVATION ARMY
1200 EAST BROADWAY
SEDALIA MO. 65301
Free literature will be available about the agencies in this area. Various speakers will also be able to share helpful information. These include teachers, other grandparents, counselors, lawyers and more.
Prayers and devotions will be given at each meeting. There will be time set aside to share problems and offer feedback on how to deal with situations. Some months babysitters will be available during the meetings.
 I want grandparents to feel like there are people who care about them and understand what they are facing. Anyone wanting more information can call
Debby Ward Hostetter: 660-619-8048