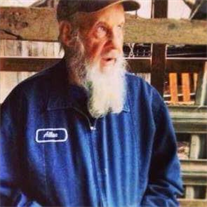 Allen Horn 74, of Louisa, Kentucky passed away on Saturday, August 5, 2017, at Highlands Regional Medical Center in Prestonsburg, Kentucky. He was born in Martin County, Kentucky on March 1, 1943, to the late Earl and Ellie Horn. In addition to his parents, Allen is preceded in death by 3 brothers, 7 sisters, one daughter in law, Geraldine Horn and one son in law, Mark Mills
Allen is survived by his wife, Dorothy Maynard Horn, 3 sons, James Allen Horn of Louisa, Kentucky, Eddie Joe Horn of Inez, Kentucky and Richard Allen of Louisa,Kentucky, Kentucky, 3 daughters, Jessica Angel Cox, Patty Sue Mills both of Inez, Kentucky and Jeanette Louise Smith of Louisa, Kentucky, along with 26 grandchildren, 31 great-grandchildren and 1 great-great grandchild. He is also survived by five siblings, Amanda Johnson, Pricey Kelly, Ada Hardin, Peachy Maynard and Myrtle Kirk.
Funeral services will be held at the Vinyard United Baptist Church in Inez, Kentucky on Wednesday, August 9, 2017, at 1:00 pm with Doc Maynard, David Bowen and Albert Horn officiating. Burial will follow at the Horn Cemetery in Louisa, Kentucky. Friends may visits at the church on Monday, August 7, 2017, starting at 4:00 pm and all day on Tuesday, August 8, 2017. Arrangements are under the direction of the Callaham Funeral Home, Inez, Kentucky.