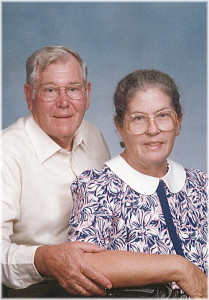 Mrs. Ovie Moore, age 85 of Pilgrim, Kentucky went to be with the Lord on July 30th, 2013 at the Martin County Health Care Facility.
She was born on June 22nd, 1928 at Pilgrim, Kentucky. She spent all of her life in Martin County as a housewife, mother, grand-mother, great grandmother and a teacher for 21 years.
She was faithful to her church, the Elizabeth Church of United Baptist for over fifty-five years being baptized April, 1958. She devoted her life to her family and the church.
She married Alex (AZ) Moore from Pilgrim in 1946. She became a widow at age of 67 from her husband age 75, a veteran of World War II.
Her home was always open to family and friends-always a place to find something good to eat or just to visit. She also made it a practice to visit the sick before becoming unable to do so. Her favorite hobbies were reading, cooking, baking cakes (especially coconut) and pies-some to sell and many to give away. She has made many, many quilts also in her life-and currently has 24 that she has made in the last few years. She has given quilts to many friends and all family members including children, grandchildren and great grandchildren.
She was proceeded in death by her husband, AZ Moore, son-Ronnie Lee Moore, infant son-Danny Ray Moore, mother-Virgie Fields Muncy, sisters-Rebecca Moore, Pearl Blankeship, Alice Pack, Elma Fannin, Ruby Muncy, brother-Homer Muncy, Sr.
She is survived by one son, Paul R. (Barbara) Moore of Beauty, KY, one daughter, Donna K. (James) McCoy of Pilgrim, KY. Granddaughters-Tammy Renee Bullock of Frankfort, KY, Marsha Lynn (Trenton) Caskey of Crittenden, KY, Tracy Michelle (Colin) Sparks of Rogers, KY, Brandy Moore of Beauty, KY. Gransons-Jason (Molly) Pinson of Cincinnati, Ohio, Paul D. (Letisa) Moore of Wurtland, KY. Mark Eric Moore of Beauty, KY. Great granddaughters-Chelcie Moore, Whitnie Moore. Great grandsons-John Bullock, Alex Bullock, Gideon Moore, Logan Caskey, Quinn Pinson, Sean Jason Pinson, Carson Sparks, Jayse Weston.
Visitation and all services will be held at the Richmond-Callaham Funeral Home in Inez per her request.
Thursday-visitation from 6:00-10:00pm with services starting at 7:00 with United Baptist Ministers in charge of services.
Friday-visitation from 11:00am-10:00pm with services starting at 6:30 with Old Regular Baptist Ministers in charge of the services.
Funeral services will be held at the Richmond-Callaham Funeral Home on Saturday at 11:00am with visitation starting at 9:00am with United Baptist Ministers in charge of arrangements. Burial will take place in the Moore Cemetery, Dye Bottom, Pilgrim, KY.
She will be sadly missed by family, friends, and the members of the Elizabeth United Baptist Church.
Donna K. and Paul R. would like to take this opportunity to sincerely thank the staff of the Martin County Heath Care Facility for their kindness, respect, and consideration shown to mom and both of us during her stay since April 26 of this year. They have gone beyond their call of duty to grant our requests and demands in every way humanly possible.
We would also like to take this opportunity to sincerely thank Dr. J.W. Endicott and his entire staff for taking care of Mom for so many years. We would like to personally thank Dr. Endicott for visiting mom at the nursing home.
Obituary provided by Richard Callaham Funeral Home