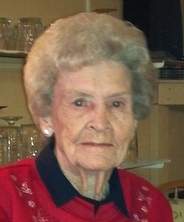 Mary Thompson, 90, of Chattaroy, passed away on Saturday, July 27, 2013, at Williamson Memorial Hospital in Williamson, WV.
Born February 3, 1923, in Martin County, KY, she was the daughter of the late Ransom Moore and Exer McCoy Moore.
In addition to her parents she is preceded in death by her husband, Roby Thompson and a beloved granddaughter, Kara Thompson Vance; five brothers, Curtis, Carlos, Alex, Billy Jack and Jimmy Ray Moore.
While Mary possessed a gentle spirit she was a woman of great inner strength. She played a vital role in looking after six brothers following the death of their mother, Exer. She was especially important in the life of her brother, J. R., as she cared for him and saw him through the remainder of his school years.
Mary later married her beloved Roby Thompson. She was well prepared for her role as a wife and mother. Mary enjoyed caring for her home and her children so much so that it would be her life's work. She was a wonderful cook whose specialty was biscuits and gravy. Her love of family extended to her grandchildren and great-grandchildren as they came into her life one by one.
Mary remained actively engaged in life long after her children were grown and on their own. She enjoyed traveling to Las Vegas and New York and other points of interest. She was enjoyed reading very much.
Mary's life was rich and full, having been filled with the love of family and good friends. She will be sorely missed yet lovingly remembered always.
She is survived by her children, Gary (Miki) Thompson of Williamson, Larry (Yedda) Thompson of Forest Hills, KY; Alice (Gary) Houben of Chattaroy and Winona (Ben) Beverly of Turkey Creek, KY; four grandchildren, Lauren Thompson, Heath Thompson, Kacee Hodge and Rod McCoy; four great-grandchildren, Lillee McCoy, Darby Vance and Rowan and Zander Thompson; her loving brother, J. R. Moore and his wife, Ella Moore, whom she loved and thought of as a sister, of Newburg, IN. She is also survived by a special granddaughter of the heart, Shannon Harper-Stafford and a special daughter of the heart, Debbie Smith and several nieces and nephews.
The family received friends on Monday evening, July 29, 2013, at Weaver Mortuary in West Williamson.
Funeral services were at 11:00 am, Tuesday, July 30, 2013, at the mortuary. The Reverend James Justice will officiate.
Interment is in the Mountain View Memory Gardens at Maher, WV. Pallbearers include Ben Beverly, Gary Houben, Rod McCoy, R. J. Moore, Luke Pullin and Larry Thompson.
Please express online condolences at www.weavermortuaryinc.com.
Weaver Mortuary of West Williamson is serving the Thompson family.