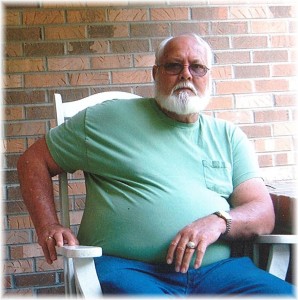 James Lewis Sturgill, Sr. 72 years old, a disabled coal miner, went home to be with the Lord on Saturday, September 14, 2013 at his home following a long illness. He was born on November 27, 1940 in West Virginia. He was preceded in death by his parents, Okey Sturgell and Emma Vance, a son, James Lewis Sturgill Jr., five sisters, Alberta Hannah, Roberta Maynard, Phoebe Copley, Betty Smith and Virginia Helms as well as two brothers, Joe Sturgell and Gary David Sturgell.
James is survived by his wife; Bessie (Messer) Sturgill, daughter, Paula (Robert) Brewer and son, Danny Joe (Lisa) Sturgill all of Kermit, WV; 12 brothers; Jude (Loretta) Vance, Joe (Tammy) Vance, Leonard (Linda) Vance, and Earl (Paula) Vance all of Kermit, WV, Tony Vance of Pataskala, OH, Sherman (Judy) Sturgell of Delbarton, WV, Charles and Okey Lee Sturgell of Crum, WV, Ivan (Sharon) Sturgell of Ohio, Albert, Harold (Bertha) and Jennings (Ollie) Sturgell of Ft. Gay, WV as well as 2 sisters, Alice (Roy) Messer and Minnie Fitzpatrick both of Kermit, WV. Seven Grandchildren; Jeremy Sturgill and Bradley (Barbara) Sturgill, Tyler (Chelsea) Sturgill, Kerry (LeAnn) Sturgill, Brock Chapman, Coltin and Briana Brewer all of Kermit, WV as well as Nicholas Newsome of Williamson, WV and seven great grandchildren; Braeden and Tanner Sturgill of Ft. Gay, WV, Arabella Sturgill of Crum, WV, Karter and Kooper Sturgill and Zoey and Joda Sturgill all of Kermit, WV.
Funeral services will on Monday, September 16, 2013 at 1:00pm at the Richmond-Callaham Funeral Home, Warfield Chapel with Matthew Crum, Delbert Crum, and Keith Brumfield officiating. Burial to follow in the Sturgill Cemetery on Marrowbone Creek Road, Rt. 1 Kermit, WV. Visitation will be from 6-10pm Sunday at the funeral home with special services at 7:00pm. Arrangements are under the care of the Richmond-Callaham Funeral Home, Inez, KY.