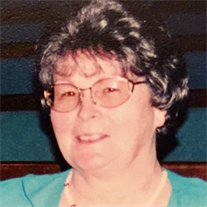 Evalina Messer Lackey 72, of Dingess, West Virginia passed away on Friday, August 25, 2017, at Logan Regional Medical Center in Logan, West Virginia. She was born in Dingess, West Virginia on April 28, 1945, to the late Compton Basil and Nancy Kirk Messer. In addition to her parents, she is preceded in death by five siblings, William M. Kirk, Byrd Messer, Grant Messer, Doris Messer Wilson and Louise Messer Irving.
Evalina is survived by her husband, Ernest "Bud" Lackey of Dingess, West Virginia, three sons, Ronald Ray (Carla) Vinson Jr. of Dingess, West Virginia, Ernest Ishmael (Cheryl) Lackey of Ashboro, North Carolina and Steve (Kathy) Lackey of Burlington, North Carolina, two daughters, Nicole (Leslie) Dillon of Chapmansville, West Virginia and Sandra Dee Lackey of Appleton, WI along with 16 grandchildren and 16 great-grandchildren. She is also survived by two siblings, Pearl Messer (Jesse) Browning and Wilburn (Brenda) Vance both of Dingess, West Virginia and special family members, Barbara Messer (Carter) Wilson, Kimberly Wilson (Ronnie) May, Kevin (Beth) Wilson, Elizabeth Fitzpatrick, Helen Stepp, Cora Evelyn Dillon, Florence (Babe) Lackey and Virginia Dempsey.
Evalina was a member of the Neely Branch United Baptist Church, where she was loved dearly.
Funeral services will be held at the Mt. Hope Freewill Baptist Church in Dingess, West Virginia on Tuesday, August 29, 2017, at 12:00 pm with Curtis Booth, Russell Ball and Michael Bryant officiating. Burial will follow at the Lackey Family Cemetery. Friends may visit at the church on Monday, August 28, 2017, after 6:00 pm. Arrangements are under the direction of the Callaham Funeral Home, Inez, Kentucky.