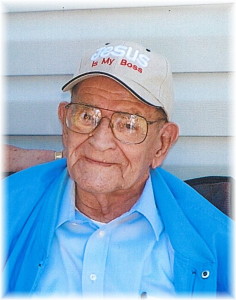 Milford Lowe 94 of Varney, Kentucky passed away on Saturday, July 13th, 2013 at his home. He was born on October 20th, 1919 in Pike county to the late James Pry Lowe and Mary (Jarvis) Lowe. In addition to his parents he is preceded in death by one son, Hayes Lowe, one daughter, Garnett Maynard, 2 brothers, 1 sisters and 2 grandchildren.
Milford is survived by his wife, Doris Williamson Lowe, his children, Gabe and Irene Lowe, Lloyd and Elsie Lowe, and Larona and Salbert Nichols all of Pilgrim, Kentucky, Jean and Tom Delong of Lovely, Kentucky, Curtis Hayes and Garnett Maynard. He is also survived by 19 grandchildren and several great-grandchildren.
Visitation will be held at the Sidney Church in Pilgrim, Kentucky on Sunday, July 14th and Monday, July 15th after 6:00pm, with church service at 7:00pm. Funeral services will also be held at the church on Tuesday, July 16th at 11:00am with Tom Dials, Wayne Herald, and Albert Cable officiating. Burial will follow at the Muncy Cemetery in Pilgrim with his grandsons as pallbeares. Arrangements are under the direction of the Richmond-Callaham Funeral Home, Inez, Kentucky.
Milford Lowe obituary provided by Ricahrd Callaham Funeral Home