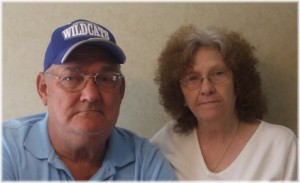 Donald Ray McMaster 68 of Marrowbone Creek, West Virginia passed away on Sunday, July 14th, 2013. He was born on January 15th, 1945 in Mississippi to the late Sara E. Jones Elam and Author McMaster. In addition to his parents he is preceded in death by one brother, Jack McMaster, one grandson, Lane Scott May, son-in-law, Lonnie Hamby, father-in-law, Willie Fields and Mother-in-law, Francis Fields.
Donald is survived by his loving wife, Dixie McMaster, four daughters, Lisa Hamby of Matewan, WV, Carol (Phillip) Stroud of Breeden, WV, Effie (Rayburn) May of Marrowbone, WV and Mary Elizabeth (Darrell) Spaulding of Louisa, Kentucky, two sons, Robert Lee (Dana) Conkins Jr. of Hubert, NC and Donald Ray (Kayla) McMaster of Louisa, Kentucky. He is also survived by twelve grandchildren, six great grandchildren and a very special brother-in-law, Haskle Fields as well as a host of family and friends.
Donald was a Vietnam Veteran and a faithful member and deacon of the Zion Church of Breeden, WV.
Visitation will be held at the Zion Church in Breeden, WV on Monday, July 15th and Tuesday, July 16th at 6:00pm with a special church services on Tuesday night at 7:00pm. Funeral services will also be held at the church on Wednesday, July 17th at 1:00pm with Bro. Phillip Stroud and Bro. Rayburn May officiating. Burial will follow at the family cemetery with his nephews as pallbearers. Arrangements are under the direction of the Richmond-Callaham Funeral Home, Inez, Kentucky.
Donald Ray McMaster obituary provided by Ricahrd Callaham Funeral Home