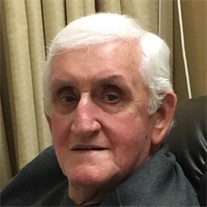 Reverend Jack Small, 87, of Lovely, KY, passed away peacefully on Wednesday, August 23, 2017. Jack was an ordained Freewill Baptist minister for 44 years, preaching about God's love and mercy every time he had an opportunity. It was truly his desire that everyone would accept God as their savior and then share the Gospel and seek to save lost souls. He had a great love for God, his family and friends, and the dedicated employees at the Martin County Health Care facility who took great care of him during the last few years as his health began to decline.
Jack was born May 5, 1930, to the late Boy and Maudie Hale Small. He graduated from Warfield High School and proudly served in the Army for two years. Jack was employed by Columbia Gas for 30 years until he retired. Upon retirement, he accepted another job with a privately owned gas company and worked until he was 80 years old.
Jack is survived by Jean Parsley Small, his wife of 59 years. He is also survived by three children, Kim ( Bruce) Morgan of Naugatuck, WV, William (Maxine) Small of Lovely, and Cathy (George) Anderson of Magnolia, DE. He was Papaw to the grandchildren he adored, Seth Chaffins, Greg Small, Jr, Miranda Edmondson, Kelli Small, and Matthew Anderson, Jessica Bingham and Maddison Bingham. Jack was the proud great grandfather to Taylor, Ben, Melody, Max, Charleigh and Aaralyn, and Uncle Jack to a host of loving nieces and nephews. Jack's surviving siblings are John Small of Beauty, Ky, Billie Jean Preece of Lovely, and Ruby Mills of Tomahawk. He was preceded in death by brothers, Luther Small, Irvin Small, Sheridan Small, and Warren G Small.
Not many people knew it, but Jack had a very humorous side (hidden talents) which included writing and singing songs, rewarding others, and playing pranks on his children, grandchildren, and extended family. He could often be heard singing his number one hit, "I Cried All the Way to the Smokehouse" and no Christmas was complete until he sang "Grandma Got Run Over by a Reindeer" loudly until all the grandkids heard it. Jack was also an avid UK Basketball fan.
Services for Jack will be held at the Callaham Funeral Home in Inez, KY. Visitation and remembrance of a life well-lived will be held Friday, August 25th from 6:00-9:00 pm. The funeral will take place on Saturday, August 26th at noon with Reverend Walter Marcum officiating. Burial will follow in the Small family cemetery at Buck Branch.
*In lieu of flowers, the family requests donations be made to Christian Help of Kermit, P.O. Box 1257, Kermit, WV 25674