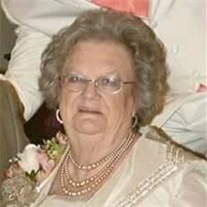 Rose Messer Dingess Aldridge 80, of Wayne, West Virginia went home to be with the Lord on Friday, August 11, 2017, at her home. She was born in Stonecoal, West Virginia on December 8, 1936, to the late Jesse and Nora Dillon Messer. In addition to her parents, she is preceded in death by her husband, Willis Aldridge, one grandson, Roger Dingess Jr., three great-grandchildren, Delanie Rose Brewer, Emily Rose and Ben Dingess, two brothers and one sister.
Rose is survived by five son, Jesse Dingess of Genoa, West Virginia, Albert (Sharon) Dingess of Lovely, Kentucky, John (Carol) Dingess of Crum, West Virginia, James Dingess and Roger Dingess both of Wayne, West Virginia, two daughters, Linda (Jimmy) Little of Wayne, West Virginia and Nora Johnson of Van, West Virginia, along with 18 grandchildren, 35 great-grandchildren and 5 great great-grandchildren. She is also survived by one brother, Jimmy Messer.
Rose was a christian for over 60 years.
Funeral services will be held at the Golden Springs Freewill Baptist in Kermit, West Virginia on Monday, August 14, 2017, at 1:00 pm with Ray Patrick officiating. Burial will follow at the Messer-Fields Cemetery. Friends may visit at the church on Sunday, August 13, 2017, after 6:00 pm. Arrangements are under the direction of the Callaham Funeral Home, Inez, Kentucky.