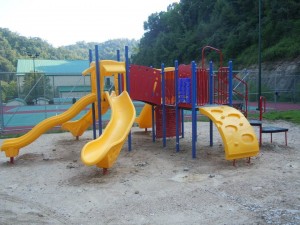 A new play area was recently installed behind the Roy F. Collier community center.
The Roy F. Collier Community Center opened it's doors on April 18, 2003. Since then they have been committed to improving the lives of the people of the community. They offer hundreds of services, programs and projects to help improve the health and wellness of the local community.
The center is located in downtown Inez.  Several attractions located in the community center include: Main Street Cinemas, Inez Fitness Center, The Country Store, an air-controlled walking track, interactive arcade, McDonald's Play Place, volleyball, and a full-court gymnasium.  It also has an area in the center called "The History of Coal Mining."
It also has a state-of-the-art video conferencing room and two multi-purpose rooms where community groups, families, and businesses can gather.
The Community Center will also be hosting a community yard sale on August 6th from 8-2pm in the parking lot….Call now to reserve your space!
For more information about the Roy F. Collier Community Center visit their website or visit their facebook page today!