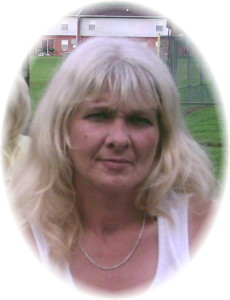 Debbie Lynn Alley, 51 of Warfield, Kentucky passed away Tuesday, August 13th, 2013 at Three Rivers Medical Center in Louisa, Kentucky. She was born in Martin County on April 3rd, 1961 to Grethel Dillon Conn of Crum, West Virginia and the late Erving Spaulding. In addition to her father she is preceded in death by one brother, Jerry Spaulding Jr.
Debbie is survived by her husband, Daniel Alley, two children, Paul Daniel Alley of Warfield, Kentucky and Natasha Sue Alley of Kermit, West Virginia and four grandchildren, Lysina (Cina Bug), Carlee (Lynyrd Skynyrd) , Shyla (Baby Shyla) and Everett (EJ) (Fuzz). Debbie is also survived by her four siblings, Jerry Michael Spaulding of Kermit, West Virginia, Brenda Sue Jude of Crum, West Virginia, Connie Jean Hall of Prestonsburg, Kentucky and Billie Jean Butcher of Paintsville, Kentucky.
Funeral services will be held on Friday, August 16th, 2013 at 2:00pm at the Williams Branch Church of God with Ellis Maynard officiating. Burial will follow at the Alley Cemetery in Warfield, Kentucky. Friends may visit at the church starting 6:00pm on Wednesday, August 14th, 2013.